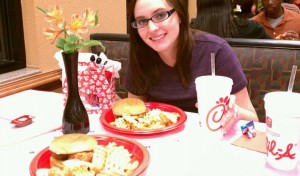 Reasons why Chick-fil-A is the bomb dizzle:
They give out coupons for free chicken sandwiches like mad
They send you text messages with deals and coupons when you're in the area.
Buffalo sauce and ranch… enough said
Waffle fries
Closed on Sundays (makes you feel good inside)
When I called the branch, I spoke directly with the franchise owner and he didn't seem rushed or annoyed
They throw a sweet shindig for Valentine's Day
Friendly people
Clean
They have almost 4 million likes on Facebook
They sell chicken but the cow is their mascot
My wife loves it!
All in all, I just like going to Chick-fil-A more than I do most other fast food restaurants because I don't FEEL like it's as "fast foody" as other places. Please feel free to disagree if you do. Thank you, and "it was my pleasure" to bring this to you today (that might just be the one thing I DON'T like about Chick-fil-A).